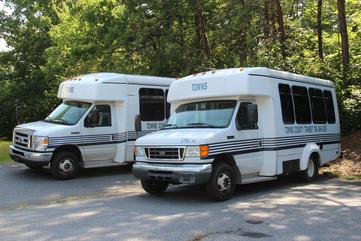 SCHEDULING AND GENERAL INFORMATION
706-896-0925

OPERATION:
Monday through Friday
8:00 am – 4:00 pm

(Hours may vary during the holidays,




Need a ride in Towns County and no way to go? Want to visit a friend, go to the doctor, visit the bank, or go to some other location in Towns County?

Transportation service is available for the citizens of Towns County. If you would like to take advantage of this new transportation service, call and make an appointment up to a week in advance.

Our transportation vans are modern 10 passenger units, and are equipped with mobility device. Service is available curb to curb, Monday thru Friday, from 8:00 am to 4:00 pm (Towns County holidays excluded). Our one way fares are among the lowest in Georgia:

$3.00 for the first mile and $.50 for each additional mile to any accessible location in Towns County.
$2.00 for each stop and $3.00 for return home.

$5.00 from Young Harris to Hiawassee one way. $2.00 for each additional stop and $5.00 for return home.
Round trip to Blairsville, Georgia, is $8.00 for each way. $2.00 for each additional stop and $8.00 return home.

Riders under 12 years old must be accompanied by a parent or guardian 18 years old or older. A Department of Transportation approved safety seat must be provided by the adult for any child under 6 (six) years old.



PLEASE NOTE:
Transportation is available by appointment on a first come, first serve basis.
It is highly recommended that you make your appointment at least 48 hours in advance.
Same day call request may or may not be available depending on the pre call schedule of that particular day.
Please respect other passengers and yield to the disabled.
No eating, drinking, smoking, and no vulgar language is permitted.
Seat belts are to be fastened at all times.